A NEW ERA OF UNITY IN DIVERSITY
On International Women's Day, APIS Institute along with four partner organizations from Egypt, Palestine, Czech, Ireland and coordinating organization Herstory from Ireland introduces Movement, a new cultural project exploring the fact that emigration and immigration are two sides of the same story. APIS has collaborated with migrant women artists in many projects (Equality in Focus, Podobe enakosti, Multivizija among others), and we are excited to have an opportunity to further build on those creative collaborations.
Migration is not only one of the highly charged and polarized topics we encounter in daily news, but rather one of the few constants of the human experience. We are a migratory species. Homo sapiens have been travelling across the world long before the invention of the wheel. National Geographic maps reveal the extensive migration routes of our prehistoric ancestors. Diversity is not a modern buzzword. This is an ancient truth. In these divisive times the pandemic is a reminder that
borders and nationalities are fabrications that conceal our common humanity.
Movement presents a series of parallel life stories of emigrants and immigrants connected by common narrative themes. The project highlights our shared humanity and the interconnectedness of people beyond nationality, ethnicity and religion; whilst spotlighting the discriminations and double standards faced by immigrants and emigrants. The objective is to deconstruct the polarising rhetorics that define this era and co-create a new future of Unity in Diversity inspired by the fundamental fact: We are One Humanity.
Each partner country collaborates with artists who are now in the process of producing portraits, poems, music, videoart. In Slovenia we collaborate with talented artists who have experienced the challenges and uniqueness of migration first-hand:
Nino Bektashashvili, photographer from Georgia, living in Slovenia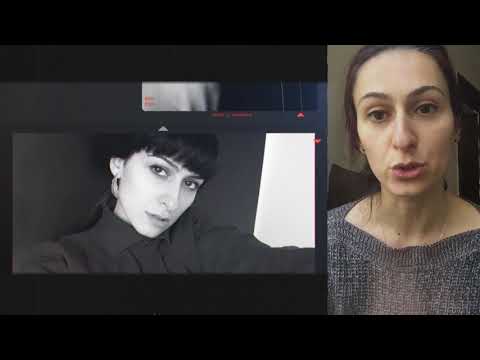 Jelena Radusinović, photographer from Montenegro, living in Slovenia
Aber Algendy, poet from Syria, living in Slovenia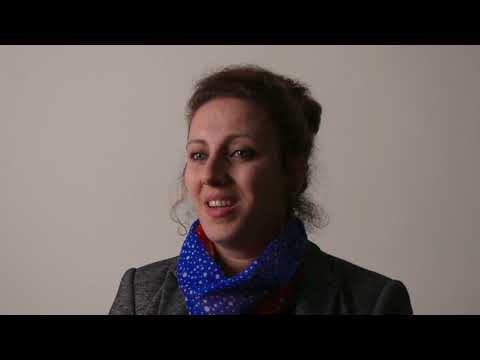 Oksana Ivanenko, painter from Uzbekistan, living in Slovenia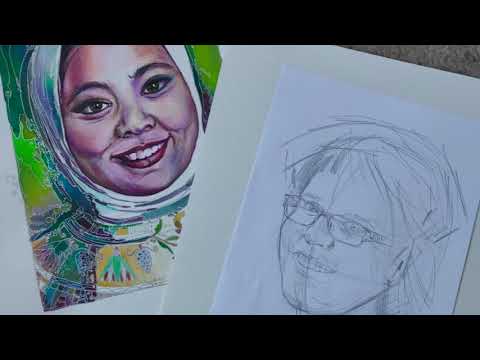 Ali R Taha, musician and multimedia artist from Syria, living in Slovenia
Each of the partner countries will present three parallel stories of women moving to and from the countries where partner organizations are based. Below you can find first ones presented by Herstory organization from Ireland.
Born and raised in Kenya, Salome Mbugua has always held a deep passion for education and peace. It was the opportunity for further study that brought her to Ireland in 1994 where she became involved in youth work and women's organisations. In 2001, Salome founded AkiDwA – Ireland's first national migrant women's organisation. Melanie Lynch, born and raised in Ireland migrated for further study and
worked in the UK and France before she found herself in Kenya where soul searching lead to a new career direction. Returning to Ireland, she founded Herstory, a women's empowerment movement that tells the stories of modern, historic, and mythic women. Read their parallel story.
Ifrah Ahmed came to Ireland from Somalia in 2006 as a teenager. From personal experience, she leant her voice to the Female Genital Mutilation (FGM) campaign in Ireland and Europe and later founded the  Ifrah Foundation . She is one of the world`s top international FGM/C eradication advocates and activists and recently, a film about her life was released called The Girl from Mogadishu. Mary Harney was born in a Mother and Baby Home and later incarcerated in an industrial school where she suffered almost daily beatings. She emigrated to London to try to find her mother, and later to America for further education where she became an activist. She is currently taking part in the Collaborative Forum for transitional justice for mothers and children that were institutionalized in Irelands' notorious Mother and Baby homes.
On International Women's Day, 8th March 2021, phase 1 launches with a series of parallel stories, student art competition and school workshops to foster diversity and inclusion in secondary schools. On 25th May 2021, Herstory's 5th birthday, phase 2 launches with an international exhibition of portraits and parallel life stories; landmark light show, melting pot events, direct provision empowerment
programme and the Parallel Peace Project.
******************************************************************************
New project Movement is a collaborative project of five partner organization:
AkiDwA (Ireland)
members of the Anna Lindh Foundation across the Euro-Mediterranean region:
Jerusalem Centre for Women (Palestine),
APIS Institute (Slovenia),
Charisma Arts for Development (Egypt),
and Agency for Migration and Adaptation AMIGA (Czech Republic),
coordinated by Herstory from Ireland.
The project is funded by Anna Lindh Foundation.
Read more:
https://www.herstory.ie/movement