From Workers to Activists is a documentary film about activistic and ambitious radio show that tries to break a vicious circle of exploitation of immigrant workers in Slovenia. The documentary film is a co-production of Institute APIS.
Authors of the documentary film:
Research journalist: Anja Kuhar  |  Camera: Klemen Krek  |  Editing: Romana Zajec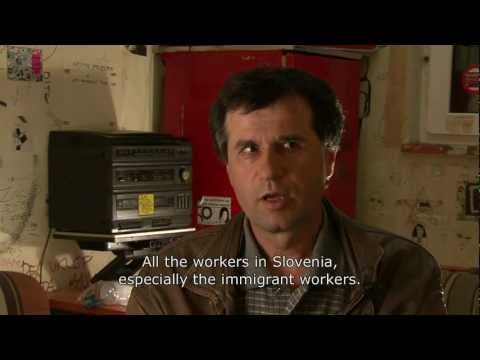 Immigrant workers themselves with the support of activists wish to change their slavery like working conditions. The radio show Visa for the Future (Viza za budućnost) gives them a unique space for the flow of information for empowerment and also an opportunity to let the public know about the extreme forms of mistreatment the construction workers are facing in Slovenia.
This is also a common story of the dark side of Europe's cyclical labour mobility and migration politics.
Documentary films From Workers to Activists  and 365 (both co-produced by Institute APIS) were produced in the scope of the project Voyages through Forgotten Place together with Voluntariat (Ljubljana), Restart (Zagreb) and CK 13 (Novi Sad). The film was premiered in June 2012 in the frame of the migrant film festival Na poti in Ljubljana.
Screenings:
film festival Luksuz 2012, Krško, Slovenia
screening at Crna kuča,  Novi Sad, Srbia
public screening at Socia center ROG, Ljubljana, Slovenia
Tags:
Andrej Kurnik
,
Anja Kuhar
,
Armin Salihović
,
circular migration
,
CK 13 Novi Sad
,
ECF
,
eu
,
eu exploitation
,
From workers to activists
,
immigrant workers
,
Institute APIS
,
Journey through Forgotten Place
,
Klemen Krek
,
Ljubljana
,
new slavery
,
Od radnika do aktivista
,
Radio Student
,
Restart Zagreb
,
romana zajec
,
Socialni center Rog
,
Vegrad
,
Visa for the Future
,
Viza za budućnost
,
Voluntariat
,
Voyages
,
Zavod APIS