AN OPEN INVITATION FOR MOOC "Civics 4.0: active citizenship and participation in the digital age"
by
romana
on
Apr 19, 2021
•
4:13 pm
No Comments
Call for Applications Now Open for "Civics 4.0: active citizenship and participation in the digital age" Online Course
With the objective of supporting young people to inspire community leadership and design innovative approaches towards the contemporary challenges using digital tools, and to support alternative forms of civic engagement, APIS Institute and NEXUS team are happy to announce the first edition of the "Civics 4.0: active citizenship and participation in the digital age" (MOOC).
On the 4th of May 2021 the MOOC will be launched on the UNED Abierta MOOC platform. 
MOOC focuses on the skills and digital tools needed in order to be an active digital citizen, based on a collection of relevant concepts, sources, initiatives and resources on digital civic engagement and participation following a practical approach. It navigates participants to gain and apply knowledge in domain of Civic-Tech for citizen participation, advocacy, campaigning, transparency and accountability.
Besides numerous READ, WATCH, DO, DISCUSS, REFLECT activities, MOOC is featuring case study interviews with initiatives from Greece Vouliwatch – online interactive parliamentary monitoring platform; Slovenian Danes je nov dan – eParticipation NGO, and Minority SafePack, Europen Citizens Initiative.
You can watch the trailer on our Youtube channel: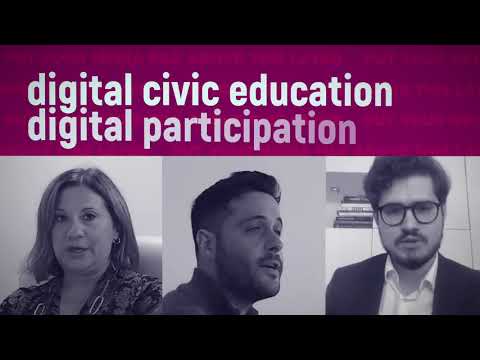 Who should apply?
The MOOC is intended for anyone, especially students from diverse backgrounds, who are interested in digital civic education and digital participation.
The course will take place from 4 May to 15 June 2021.
How to apply?
The call for applications is now open here. 
There is no entry requirements, all that is required is an interest in the subject matter and a B1 level of English, as the course is in English (a Spanish translation of the course materials is also provided).
Registration is open and it will be until the last week of the course!
What exactly is it about?
Below you can find the structure of this 6 weeks long MOOC:
Modules
Module 1. Introduction to active digital citizenship: what it is and why it matters
Module 2. Key basic skills for digital civic participation
Module 3. Monitoring public policy that affects you
Module 4. Connecting and engaging for social impact
Module 5. Foster local participation: smart communities and digital participation
Module 6. Wrap up and get ready for action
The MOOC lasts 6 weeks, although every participant can take the course at his/her own pace.
The course content is composed of videos, readings and activities such as self-evaluation tests, forum discussions and collaborative tasks. 
Subscription, participation and access to all materials are totally free, and participants who complete the course will receive an open badge. 
More detailed information about the MOOC can be found HERE. 
Teaching Team
This MOOC is a collaborative effort of NEXUS partner organizations UNED, Spain; Knowledge Innovation Centre-KIC, Malta; UNIMED, Italy; European Citizen Action Service-ECAS; Malmo University, Sweden and us, APIS Institute, Slovenia.
MOOC was designed and produced by:
María Dolores Castrillo de Larreta-Azelain (UNED)
Elena Martín Monje (UNED)
Ana Ibáñez (UNED)
Jorge Arús Hita (UCM)
Antonio Pareja Lora (UCM)
Cristina Stefanelli (UNIMED, Italy).
Fabio Nasimbeni (UNIMED, Italy)
Anthony Camillieri (Knowledge Innovation Centre-KIC, Malta).
Ivana Stanojev (Knowledge Innovation Centre-KIC, Malta).
Flavio Grazian (European Citizen Action Service-ECAS, Belgium)
Elisa Lironi (European Citizen Action Service-ECAS, Belgium)
Romana Zajec (APIS Institute, Slovenia)
Teresa Tomašević (Malmo University, Sweden)
Lars Lindhagen (Malmo University, Sweden)
We are proud and excited to be part of the production team of this course within the frame of Erasmus+ project "NEXUS – Promoting the Nexus of Migrants through active citizenship.
The call for applications is now open here: 
https://iedra.uned.es/courses/course-v1:UNED+Civics4.0_001+2020/about